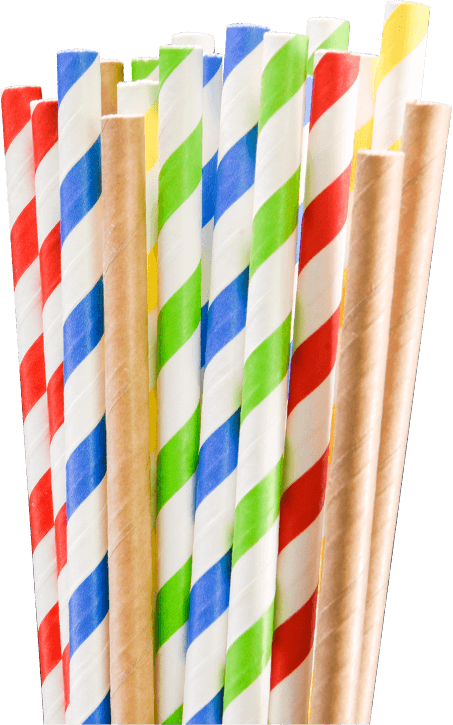 Paper straws
Paper drinking straws are produced in accordance to the  customer order. We also offer standard products that can be found in the product catalog. 
GO TO CATALOG

Our possibilities of paper straw manufacturing are:
kinds
- straight
- flexible
- individually wrapped (in paper or foil film, also compostable foil film)
- with overprint
- angle cut straws
- for application to the small cardboard boxes
diameters
4; 5; 6; 7; 8; 11; 12mm
length
30- 270mm
packaging
collective packaging (big plastic bags or cardboards)
small cardboards for retail sales
main colours
white, black, white in red/ green/ blue/ yellow stripes, brown.
Others colour are possible in accordance to the order
Paper straws are made of certified paper, which comes from legal and safe sources. It meets the requirements of the FSC standard.
The raw material we use for production is 100% cellulose. The properties of the straw ensure the use of a special adhesive intended for contact with food and three layers of durable high-density paper.

Due to this, our straws are useful until you drink your beverage till the last drop. The quality of our straws is incomparably better than imported products, which our market is full of.
Following the changes in the European requirement area which considers ban of production and sales of plastic straws in 2021, we decided to implement a new, ecological kind of products – paper drinking straws.

In 2017 we added paper drinking straws to our offer and one year later we started the mass production.

The paper straw is a kind of product only made from paper which is connected by glue in the twisting and joining process.

Straw consists of 3 layers of paper with different density, where two inside layers are a stiffening stem and outside layer causes the final shape of the product.
We use original, virgin paper without recycling inclusions.
In accordance with our supplier declaration, the paper meets European standards of high hygiene, safety area and direct food contacts requirements.

The glue is also certified as a food grade contact product and what is more was tested and passed standard OECD -biodegradability in aerobic conditions.
During production paper straws we do not use extra plastic covers or ingredients.
We have to mention that color paper in the printing process is covered by a top barrier to not let direction contact between ink and beverages, which is a European requirement.

The described barrier is a water based product, which can stay with food contact.
Using paper straws we can drink many kind of beverages such as juices, soda drinks, alcoholic drinks or milk.
The most important parameter in this case is temperature , about 40oC, but it is an average value.

Because we are trying to develop our straw all the time and we are looking for a new, better and more ecological material, so maybe in the future our paper straws will be more resistant to higher temperatures.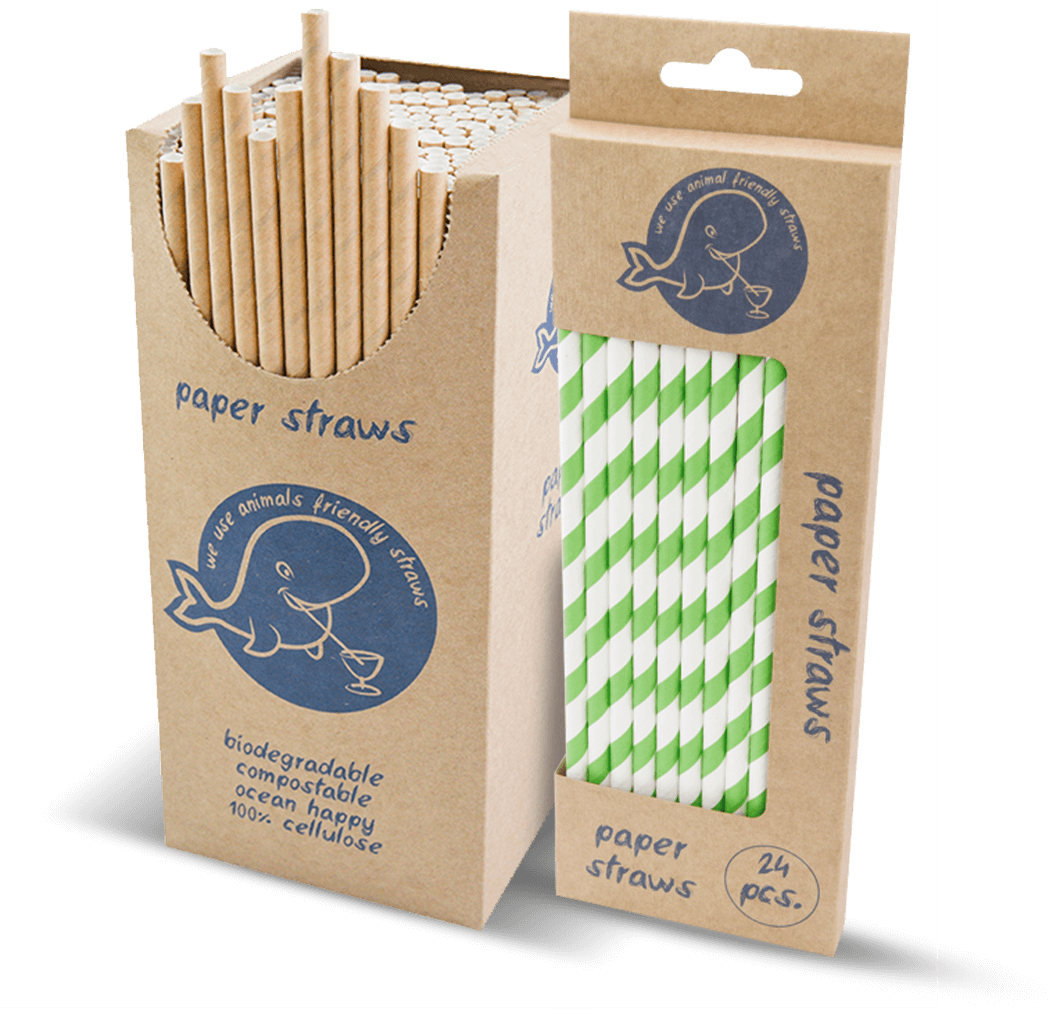 Packaging
Multipack: 8 boxes per pack.
For retail orders: straws packed in small cardboard boxes.
Our straws can be individually packed in plain or printed paper.
Diameter (mm)
Package (pcs)
Multipack (pcs)
6
250
2000
8
160
1280
VARIETY OF COLOURS
white

brown / kraft

black

yellow - white

green - white
red - white

blue - white

bamboo - green
bamboo - brown