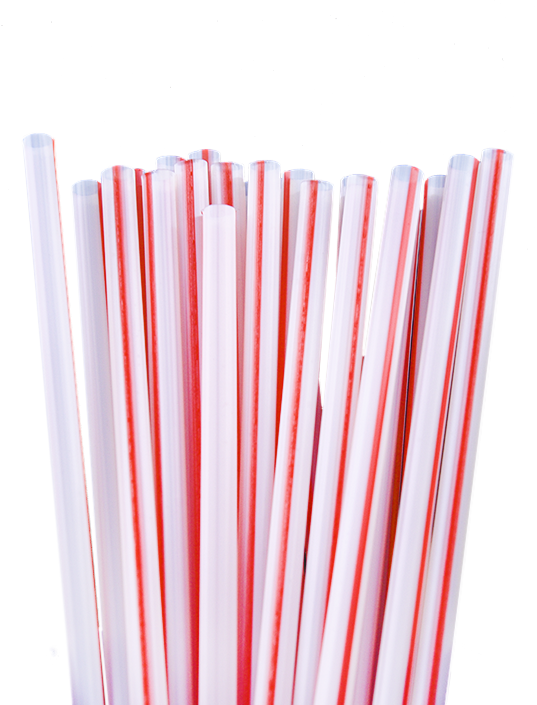 Bio straws
Compostable bio straws are produced only to the customer's order. We  also offer standard straws, which you can find in the product catalog. GO TO CATALOG

Our production possibilities:
kinds

- straight




- flexible (PLA only)




- individually wrapped (in paper or foil film, also compostable foil film))




- with overprint




- for application to the small cardboard boxes




- spoon straws

diameter
4-8mm
length

100-300mm

packaging

collective packaging (big plastic bags or cardboards)




small cardboards for retail sales

main colours

white, black, green




according to the customer's needs
Biodegradation of PHA straws
in fresh water
Biodegradation of PHA straws
in sea water
A few years ago we introduced bio straws to our offer because of ecological trends in the packaging market and European requirements.
A few years ago we introduced bio straws to our offer because of ecological trends in the packaging market and European requirements.
In our offer you can find 3 kinds of compostable bio straws which are produced of the newest ecological materials on the market.
Compostable bio straws are an interesting alternative for customers who are not able to accept paper products. The structure and appearance of the bio products are similar to the plastic straw but they degrade fast and safely in the environment.


PLA drinking straws

PLA ( (Polylactic acid) ) is the best polymer group meeting the new ecological trends and is biodegradable raw materials taking from renewable sources
PLA is the most popular and the cheapest bio raw material on the market. It is made from natural products like corn and sugar beet, which is the result of Lactobacillus bacteria activity in the sugar fermentation and polymerization process.
In the PLA drinking straws production we use raw materials which are certified of industrial composting according to ISO 13432 (Packaging Recoverable Through Composting & Biodegradation)


PHA drinking straws

For our more demanding customers, we offer PHA (polyhydroxyalkanoate) compostable drinking straws
Polyhydroxyalkanoates are produced as monomers by bacteria in the fermentation of sugars or lipids.
The PHA we use has been tested in an international laboratory for compliance with the ISO 13432 standard and obtained a certificate of industrial/ home compostability, compostability and biodegradation in sea water and also in soil.
In 2021, we received our own "compost industrial" and "compost home" certificates for PHA straws.

PBS drinking straws


PBS (Polybutylene succinate) is a bio-derivative and biodegradable / compostable material both in industrial installations and in home composters.
PBS is obtained from natural raw materials such as corn and sugarcane. The raw material from the PBS group we use is biodegradable both in sea water and soil.